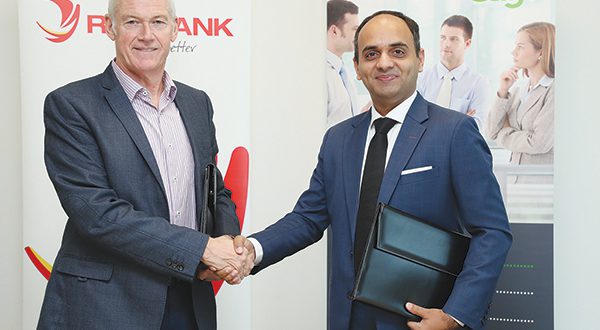 Sage and Rakbank Join Hands to Support Accounting Needs of UAE Businesses
Sage, the market leader in cloud business management solutions, and the RAKBANK announced a partnership agreement. This would entail RAKBANK to offer Sage accounting software to support its Business Banking customers of all sizes and across all industries.
Through this partnership, RAKBANK's business customers can benefit from  Sage Business Cloud Accounting software at preferential rates.  Sage accounting solutions will enable the Bank's customers to easily manage their businesses in compliance with the Value-Added Tax (VAT). RAKBANK is one of the largest SME lenders in the UAE and is committed to the growth of the sector through strategic partnerships that provide efficient and convenient solutions to its customers. Five of Sage's VAT accounting products were accredited by the UAE Federal Tax Authority earlier this year in March, and are on the Approved Accounting Software list.
On the partnership, Mansoor Sarwar, Director of Technical Services and Pre-sales at Sage Middle East, said: "RAKBANK is one of the UAE's most dynamic financial institutions, and it has a dedicated focus on small and medium businesses. They are aligned with Sage's vision – to help business builders realise their ambitions – especially as Sage also started as a small business and grew beyond what seemed imaginable. We are honoured to partner with RAKBANK, and together support every type of business in the UAE with their business finance and accounting needs."
Commenting on the partnership, RAKBANK's Managing Director of Business Banking, Dhiraj Kunwar said: "Many SMEs  face difficulty in the accounting and cash flow management aspect of their business, especially with the implementation of the VAT. RAKBANK's partnership with Sage will offer our Business Banking customers new features that meet all their VAT and accounting needs. As one of the largest SME banks in the region, we are delighted to have partnered with a company like Sage. This partnership is in line with our strategy of assisting businesses by offering them convenient digital solutions that support their exact financial requirements."
In a survey conducted by Sage in the first quarter, 37 per cent of small and medium businesses stated that they struggle the most with accounting, and added that they were ill-prepared for complying with VAT regulations. "Entrepreneurs who are concerned about not managing their business finances or VAT effectively should look at implementing smart accounting products that are capable of automating the majority of these processes. Business owners should be focusing on their core purpose, rather than be burdened by administrative tasks," added Sarwar.
Source: www.albawaba.com/business/pr/sage-and-rakbank-join-hands-support-accounting-needs-uae-businesses-1144768