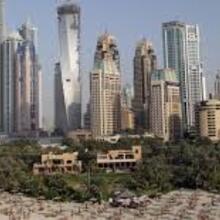 21 UAE firms among 100 top Middle East companies
As many as 21 UAE firms have made it to the list of top 100 Middle East companies, the second highest after Saudi Arabia's 33 entries, according to Forbes.
Qatar came in third with 18 companies while Kuwait and Bahrain have seven companies each on the list and Oman has four. In total, GCC countries make up 90 per cent of the list.
Among the North African countries, Egypt has five companies on the list and Morocco has four. Only one Jordanian company made the list. No Lebanese companies feature on the list as none disclosed their financial statements before 23 April 2020.
The highlight of this year's list is the arrival of Saudi Aramco, making its debut in first place. The oil giant is currently the most valuable company in the world with a market value of $1.6 trillion.
The 100 companies have a total of $670 billion in sales, $148 billion in net profits, $3.5 trillion in assets, and $2.3 trillion in market value-but Saudi Aramco represents 49 per cent of those total sales, 59.6 per cent of the net profits, and 69.6 per cent of the market cap.
"Although the pandemic has sadly led to the closure of some companies, it has also opened doors of opportunity and growth for others," said Khuloud Al Omian, Editor-in-Chief of Forbes Middle East. "While the market value of many the companies on our list has dropped, they are still showing great resilience and continuity in difficult times."
The ranking is compiled based on data from all stock exchanges in Arab countries and analysis of market value, sales, assets, and profits.
Source:https://www.khaleejtimes.com/business/local/21-uae-firms-among-100-top-middle-east-companies